As a commercial property manager, you're dealing with a lot of moving pieces on a daily, monthly, and annual basis.
From managing your existing tenants and vacancy rates to putting your property on the market, you need to pay special attention to the care and keeping of your property—and know its value.
Here are the key challenges and obstacles you need to overcome.
Find the Right Tenant Mix
You're responsible for bringing tenants into your commercial property who fit your current mix. While you can rely some businesses to stay for the long-term, others may not have the same longevity.
Bringing in tenants who complement each other and attract customers—and other tenants—is less stressful when you target the right types and combinations of tenants.
Click here to get a free janitorial site inspection!
Know the Rental Market—Inside and Out
Having a profound understanding of the rental market in your locality is crucial to commercial property management. You know well that tenants are price-sensitive—they also look for particular amenities when seeking property, like ample parking space and large space for deliveries.
In addition to having a clear picture of the local rental market, you must analyze how your property's unique features increase or decrease its value on the market. To attract and keep your ideal tenants, price your properties right…
…And Market Your Properties Properly
After pricing your vacancies accurately, listing them on the optimal websites will ensure your property gets better exposure for brokers and prospective tenants.
Consider these characteristics that will impact the pricing of your space, including:
Location and visibility
Traffic counts
Demographics of local population
Surrounding businesses
Manage the Vacancy Rate
Managing commercial rental properties can be a hassle. The time and effort necessary to maintain existing tenants can be a lot to handle—making your job feel a lot like a professional juggling act.
When one tenant moves out, and perhaps others move out at the same time, you experience the challenge of compensating for these increasing vacancies—and scrambling to find new tenants. While some increases in vacancies can be attributed to economic trends and seasonal changes, other unpredictable factors often challenge vacancy rate.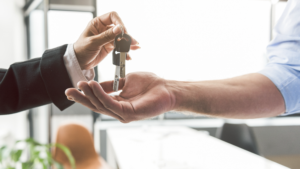 Contract the Best Services
How you maintain your property is key to ensuring you keep tenants for a longer time and control your vacancy rate. You need to conduct thorough research to contract the right landscapers, snow removal services, cleaning services, renovators, technicians and other services that keep your building in peak condition.
Ensure your staff is well-trained, licensed, and has a proven reputation for excellence. Most janitorial services hire and train their staff, but reputable services who are trained in cleaning multiple types of property are harder to come by.
Get in touch with janitorial service providers and ask them about the experience of their cleaning technicians. Services like Knight Clean, who have provided cleaning services in Edmonton and surrounding areas for 30 years, conduct site inspections to evaluate the cleaning needs of your space.
Contact us for a free quote on our highly trained and dedicated cleaning technicians.