Many seniors prefer to remain at home as they age. After all, their home is comfortable and familiar, and remaining there allows them to maintain a sense of independence. Unfortunately, common household chores can become exceedingly difficult for the elderly. A maid service company may be indispensable in this situation.
Home cleaning services may enable a senior citizen to maintain their independence and stay in their home for a much longer time. Because of the services of a professional cleaner, the resident and their family can rest assured that conditions in the home are clean and safe. This gives everyone involved peace of mind.
It isn't easy for anyone to admit, but ageing takes a physical toll. Aches and pains are more frequent, and the elderly tend to have less range of motion and flexibility than younger people. Additionally, loss of muscle mass is common for seniors. All of these factors may make it difficult for an older person to run a vacuum cleaner, reach top shelves for dusting or to move heavy objects out of the way for better cleaning. Bending down similarly becomes difficult, which means that hygienically important tasks like cleaning the toilet may not be done.
When it comes to having a housekeeper Edmonton citizens may feel like the expense is an unnecessary extravagance. However, there are several valuable advantages that the elderly and their loved ones receive when they engage the assistance of a maid service company.
Reduced Risk of Accidents
Among the most important advantages of having a housekeeper is the reduced risk of accidents in the home. The elderly frequently injure themselves while trying to perform cleaning tasks. A single fall can have dire consequences that might include a broken bone, which tends to be far more serious for a senior citizen than it is for others. People who engage a cleaning service also are less likely to develop hernias or a back injury, either of which could necessitate a surgery or an extended period of recovery.
Clean and Hygienic Home
An additional advantage of having a maid regularly maintain an elderly person's home is the end result: a clean and hygienic home. Too many seniors try to keep up their residences by themselves, and when certain tasks become too difficult, they simply don't do them anymore. The result is unhygienic surroundings that could easily make an older person seriously ill. A clean home is simply a safer home for everyone.
Social Interaction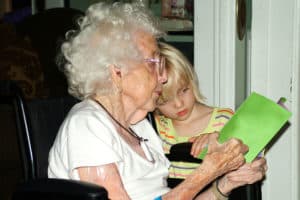 For seniors, a maid service provides so much more than a clean, safe home. Visits from housekeepers are highly anticipated as they offer stimulation, variety and socialization. Loneliness is rampant among older citizens, so having a regular visitor is a helpful solution. Many a warm friendship has grown between seniors and the housekeepers who help them care for their homes. When it comes to house cleaning services for the elderly, the client receives so much more than a safe place to live.
When considering a home cleaning company for an elderly person, it's important to engage a service that understands the specific needs of an older clientele. For instance, it is vital for the housekeepers to use safe, non-toxic chemicals that emit few fumes. This is because some cleaners can irritate the respiratory conditions that afflict many seniors.
Additionally, it's critical that the housekeepers be trained to work specifically with the elderly. This enables the housekeepers to suggest certain helpful services or to look for potential hazards in the home. These hazards can be minimized or eliminated with a vigilant housekeeper making routine visits.
The employees of reputable maid service companies are trained to listen to their clients. This means that they honour special requests if, for instance, a client favours a certain way of completing a task. Above all, the housekeepers want their services to be a pleasant and welcome interlude in their client's week. That means understanding the preferences of the customer and adhering to them every time.
Dust Queen Maid Service provides elegant Home cleaning services solutions in Edmonton for elderly people who prefer to age in place. With the assistance of an experienced housekeeper, the senior citizen and their family can enjoy greater comfort and peace of mind.