Enjoy Life Dust-Free & Stress-Free with Dust Queen's Stellar Carpet Cleaning Services in Edmonton
PROFESSIONAL CARPET CLEANING SERVICES 
Cleaner Carpets for a Healthier Home
There's something wonderful about coming home to a clean house. A thorough cleaning not only makes your home look and feel beautiful, but it eliminates the allergens, mould, and the harmful bacteria and viruses that can cause illness. The end result is a healthier living environment for everyone.
But a clean home begins with clean carpets. Even with regular vacuuming, carpet fibres collect dirt, dust, dust mites (microscopic bugs) and other allergens, but also bacteria and viruses. As you walk across the carpet each day, all of these things can become airborne and put your health at risk.
Fortunately, regular carpet cleaning services by Dust Queen can help in removing these health hazards, while extending the life of your carpet and restoring it to its original beauty. That's why we recommend that homeowners have their carpets cleaned at least once a year.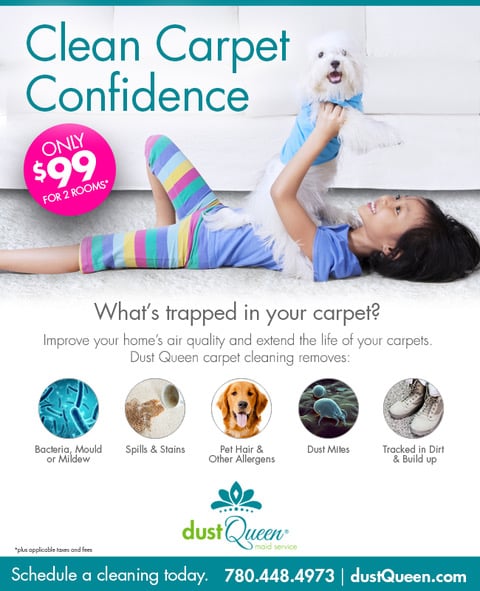 How it Works
Dust Queen's skilled technicians begin by vacuuming thoroughly to remove dust, dirt, and hair. After this, carpet is cleaned using a hot-water extraction method and odorless cleaning products that are safe for people, animals, and the environment. This method ensures a deep clean with no residues left behind.
SCHEDULE A CARPET CLEANING TODAY
We use self-contained, portable cleaning units and truck-mounted systems depending on the nature of the job. When we're finished, your carpets will appear plush and clean — but it's what you can't see that matters most. By ridding carpets of allergens and other hazards, your home becomes a healthier environment for you, your family and your pets.
One-Stop Cleaning
Let Dust Queen clean your home from the bottom up. We offer full-service residential cleaning in Edmonton and surrounding area, with service packages customized to our clients' specific needs. In every room of your house, our highly trained technicians will remove the allergens and germs — and add sparkle — from floor to ceiling.
Residential Carpet Maintenance
Deep clean your carpet to improve its appearance, extend its life, and reduce health hazards (like allergens, mould, and bacteria). We offer packages based on the square footage, number of rooms, and condition of your carpeting. Let our customer service representatives provide you with an accurate quote today.
Emergency/Short-Notice Carpet Clean Up
Dealing with a minor household emergency? Dust Queen can help. Our technicians can clean up carpets when hot-water tanks leak, basements flood, or parties get out-of-hand. Contact our office at 780-448-4973 to speak to one of our customer service representatives right away.