Having carpet in your home is very common, and while it's great for providing warmth and comfort, it's more of a headache to keep clean and pristine compared to laminate or tile flooring — especially if you have a family or pets! It's also one of the biggest investments in your home and can be expensive to replace, so you want to do everything you can to improve its lifespan. Here are six tips for keeping your carpet looking brand new and free of dirt, grime, stains and dust, as well as how incorporating a professional carpet cleaning service can keep your carpet looking its best. 
Use doormats
Use a combination of outdoor and indoor mats at each of your entrances to reduce the amount of grime and dirt tracked into your home. Having one outside allows you and your guests to wipe their shoes off before they even enter the house, while one inside allows them to take their shoes off without making a mess.  
Remove shoes
Doormats are only effective if outdoor shoes don't go past them! Shoes can be the biggest culprit when it comes to tracking dirt through your home and can wreak havoc on your carpet. A simple Google search will reveal exactly what kinds of dirt and bacteria are tracked in on the bottom of shoes — yuck! 
Carpet is almost like a magnet for whatever dirt is on the bottom of your shoes — not to mention that shoes can grind dirt into the carpet fibres and cause matting. Implement an indoor no-shoe policy so the dirt and grime on the bottom of your soles doesn't get tracked through the rest of the house and less wear and tear is done to your carpet. If you have sensitive feet and need to wear something supportive around the house, designate some house shoes or house slippers for yourself that never go outside. 
Vacuum regularly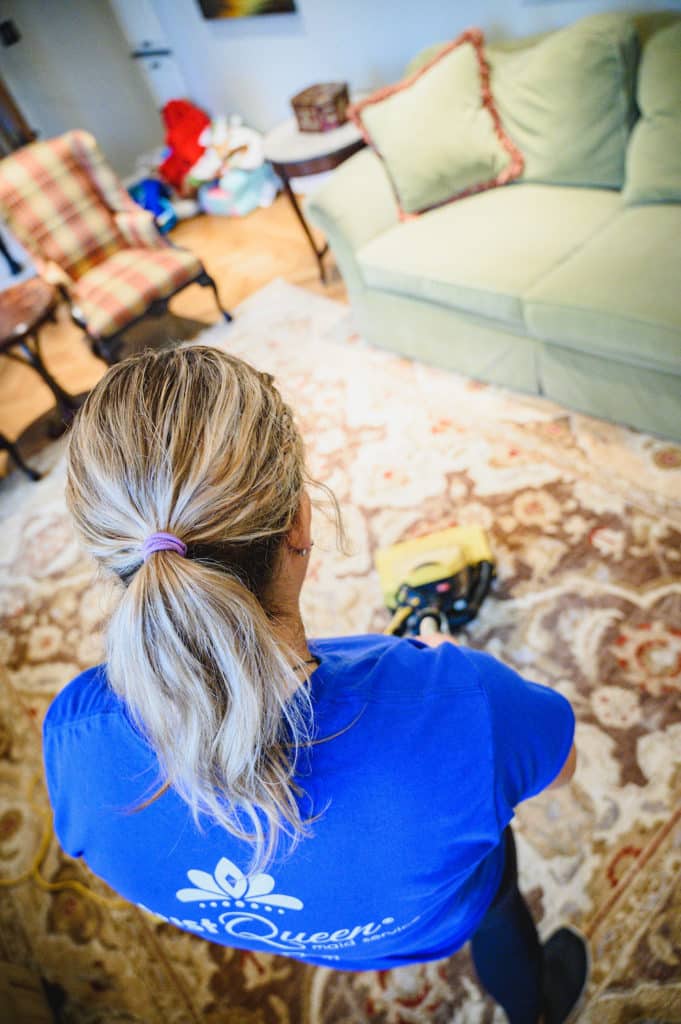 This may seem obvious, but vacuuming is the most effective way to keep your carpets clean on a regular basis. Vacuuming your carpet at least once a week is a good rule of thumb, especially if the carpet is in a high traffic area or you have pets—in which case vacuuming twice a week may be better. 
Vacuuming regularly helps to keep dirt out of the deeper fibres of your carpet so they won't clog up and gradually deteriorate the colour and quality of the carpet. That said, vacuuming too frequently has negative consequences as well, as the constant back and forth of the vacuum can wear out the carpet more quickly.
Having a set routine will help keep those dirt particles and pet hair away, as well as reduce any dirt that has built up over time. If this frequency of vacuuming is too much for you to handle, bring in a professional cleaning company on a regular basis to take care of the vacuuming some or all of the time. 
Take anything messy outside
High traffic areas are the worst to clean. If you're hosting a get-together, combat this issue by entertaining outdoors and moving the party outside. This will limit the amount of foot traffic and potential stains from food and drinks inside your home.
Similarly, DIY projects such as painting or touching up furniture can also leave spills behind on your carpet. Take these activities outside or into a shed to save yourself the trouble of having to clean your carpet afterwards. 
Take care of spills and stains immediately
Stains from food, drink, pets and other spills are a common issue for carpets. But the longer a stain has to set in, the harder it is to remove, and leaving stains unaddressed can damage the colour and texture of your carpet. It's important to be diligent in cleaning up spills immediately, and also to remember that different types of spills require different clean-up methods. Several companies also offer stain removal products, many of which are specific to certain types of stains.
Deep clean and call the professionals
Although vacuuming is important, it only removes dirt from the surface of your carpet. A deep carpet clean gets below the surface fibres and pulls out all the gross stuff you can't see. You can rent carpet cleaning machines to do this job yourself, but if used improperly they could make things worse by attracting more dirt, mould and mildew. 
We recommend hiring a professional for a deep carpet clean once or twice a year to keep your carpet clean and damage free for as long as possible. Deep cleaning your carpet improves its appearance, extends its life, and reduces health hazards like allergens, mould and bacteria. At Dust Queen, we offer carpet cleaning packages based on the square footage, number of rooms and condition of your carpeting.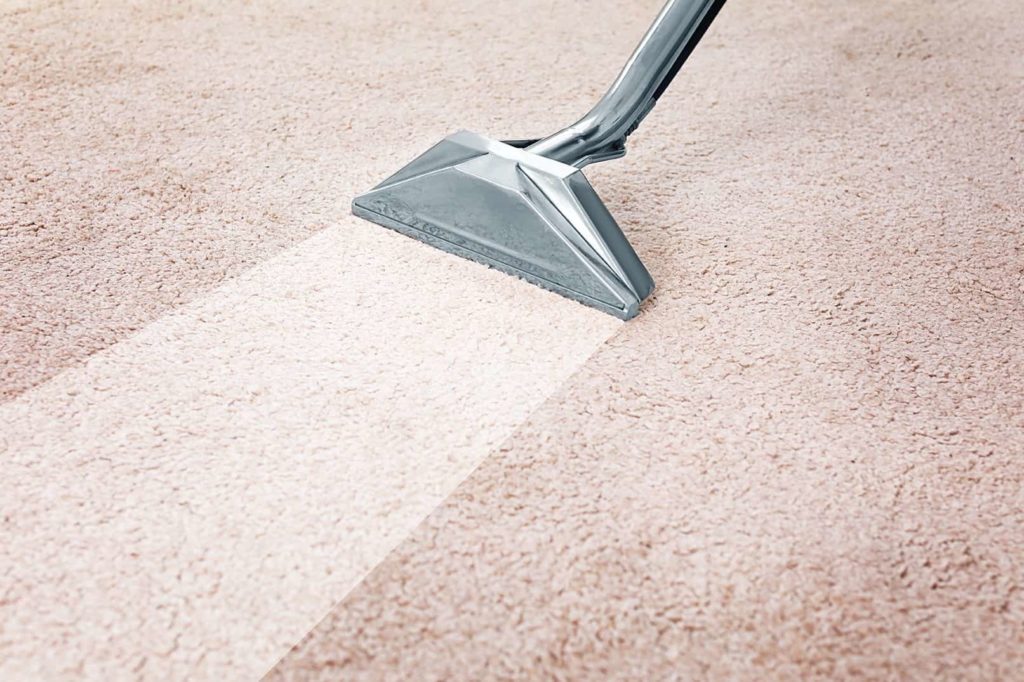 Whether to help you with the regular cleaning or to perform a deep clean, giving your carpet the professional treatment will help it look like new and extend its lifespan. Following these six tips, no matter how much life gets in the way, will help ensure your carpet continues to look like new for years to come. Dust Queen has been a leader in the cleaning industry since 1989 and our cleaning system has been perfected for every home over these last 30+ years. Get your free online quote from Dust Queen today to see how our services can help you keep your carpets clean, whether for regular cleaning or a deep clean.